Project Details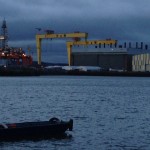 Client: Belfast Harbour Commissioners
Principal Contractor: Larsen Contracts
Scope of Work: Preparation of existing concrete structures, concrete repair and application of protective coatings
Market: Water Industry
no contest here
Belfast Harbour Commissioners appointed Larsen Contracts as Main Contractor for the concrete repair of Stormont Wharf .The project involved the Structural repair and strengthening of Pile heads and downstand boars to the deck slab .The work to be undertaken is within a tidal zone on the main shipping channel into Belfast Port.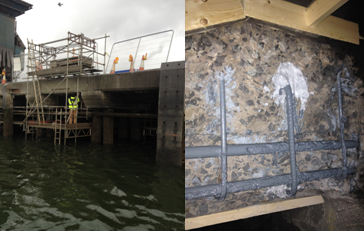 Access is via a hanging scaffold and a bespoke pontoon system to facilitate the limited access under the deck soffit
Demolition of all repairs is through Hydro demolition , open gait blasting of the reinforcement with some replacement steel embedded with epoxy resin
Repairs were carried out using sprayed concrete and flowable repairs to the pile heads. Works were completed on time and on budget.
Particular challenges were the storm force weather and the unusually high tides during the works .This did lead to some down time during the project but the works were completed on time and on budget for the beginning of the Cruise ship season .
Larsen Contracts have serviced the water industry for over twenty years through repair and application of protective coatings and technical mortars to structures throughout the UK and Ireland.