By admin | Published: July 23, 2012
Quality marks the way at Brown Thomas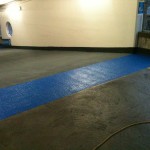 Brown Thomas Car Park is one of the busiest car parks in central Dublin servicing 1000's of shoppers each week for the exclusive Brown Thomas department store and adjoining Grafton Street shopping areas. The Client (Tony Keogh and Sons) have used Larsen Contracts over a number of years to undertake Car park repairs and upgrades.
Larsen Contracts were recently appointed to replace membranes to ramps,   coloured walkways and line markings throughout the 1700m2 car parks. The car park was to remain open for the duration of the project so works to ramps were scheduled between hours of 12midnight and 6 am when the Car Park would be closed. Application of coloured walkways and line markings would be undertaken over a 4 week period to avoid disruption
The products selected were :Degafloor RTU a heavy duty MMA Car park flooring system  which cures  fully within  1 hour offering minimal disruption ,excellent  skid resistance , crack free performance and colour stability and Remmers CPD for  line markings and walkways to give a bright and attractive and safe environment for cars and pedestrians.
Also posted in
Car Parks & Podium Decks
,
News
| Tagged
car park decking & line marking
| Comments are closed.