Project Details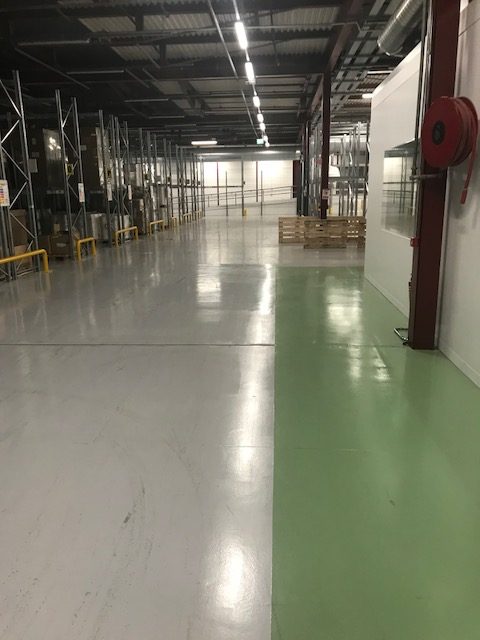 Client: Baxter Healthcare
Specialist Contractor: Larsen Contracts
Market: Pharmaceutical

Download PDF
Larsen Contracts were appointed to resurface an existing 3500m² warehouse floor which was being renovated to meet the standards expected by Baxter Healthcare. In order to meet the high quality floor finish requirements, Larsen put forward the MC DUR 1212VB specification for consideration. This proposal was approved by management at Baxter Healthcare.
On inspection prior to commencement, Larsen surveyors noticed a problem with moisture in the floor slab which necessitated the use of a moisture tolerant primer (MC DUR 1101) to avoid any complications.
Mechanical preparation of this slab was by use of two downward blasting machines simultaneously. Once the blasted surface had been cleared of any remaining shot and debris, the primer coat was applied followed by a scratch coat to level out any uneven areas on the surface. A first coat was applied to the whole entire slab and left to dry. Next, the top coat areas requiring a green finish rather than the standard grey were marked– these were laid separately. The result left a perfectly smooth semi-seamless finish that met the strict H&S requirements required by Baxter Healthcare.