Project Details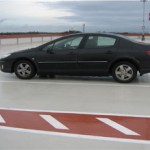 Client:Meadowlane Shopping Centre
Main Contractor:Mc Aleer & Rushe
Specialist Contractor: Larsen Contracts Ltd
Application:Sika 350 Top Deck system, Larsen WBA Deck Sealer
Market:Shopping Centre, Car Park Decking & Markings

Download PDF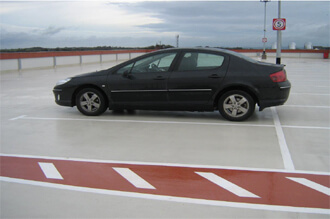 With the expansion of the Meadowlane Shopping centre, the developer wanted to create a stylish and up market shopping experience. In order to aid delivery of this experience for customers, a pleasant bright and safe multi-storey car park was added which incorporates approximately 500 covered car park spaces.
Larsen Contracts proposed the Sika Car Park decking system for the top decks and a clear sealer with coloured walkways and markings for the intermediate parking decks.
The roof decks were protected using an Elastomeric waterproof crack bridging system
(Sika 350) which is a decorative anti -slip protective system designed for Car Parking.
The intermediate decks were sealed using Larsen's WBA environmentally-friendly,
water-based acrylic sealer which is designed to provide protection against dusting and
the ingress of oils and de-icing salts.
The coloured walkways and markings were designed to provide the shopper with a
safe and pleasant parking facility as part of their experience at the Meadowlane
Shopping Centre.