Project Details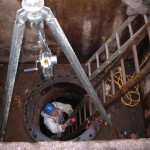 Client: ESB International Investments
Main Contractor: Larsen Contracts Ltd
Application: Sika Combiflex, Sika Concrete repair systems.
Market: Concrete Repair and Protection

Download PDF
Planned shutdown works incorporating power outage at the North Wall Generating Station in Dublin provided an opportunity to inspect the cooling water culverts. ESB engineers carried out a visual internal inspection of the reinforced culverts and discovered that two joints had failed were allowing water to seep from the structure.
As the station was "down" there was time to carry out the repairs before going back into operations, all work had to be carried out under confined space entry procedures as the joint locations were approx 90lm along the nearest entry point.
A Health & Safety risk assessment was carried out by Larsen's experienced operatives prior to starting work.
Given the station's location within Dublin Port, the culvert works were subject to tidal flow and water pressure, so work was carried out on a falling tide. Concrete cleaning and surface preparation were carried out prior to the installation of temporary water plugs followed by installation of the Sika Combiflex system using a rapid grade epoxy adhesive.