Project Details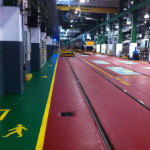 Client:Irish Rail /Port Laois Depot
Main Contractor: Larsen Contracts Ltd
Application:2 coats Epoxy ph Remmers Line markings Meon
Market: Transport
Date: December 2013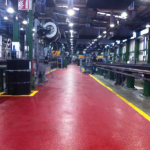 Download PDF
Larsen Contracts were appointed to replace 2060m2 of flooring in the high-spec Irish Rail National Traincare Maintenance Depot in Portlaoise. These maintenance facilities are used to maintain all of Irish Rail's Intercity fleet of trains and carriages.
Following a detailed tender and prequalification exercise, Larsen  Contracts's success in previously installing highly durable, chemical resistant coatings proved key for Irish Rail.  The preparations works involved diamond grinding to the surface as well as necessary repairs to joints and cracks in the  existing floor.
The Remmers Epoxy PH system  (involving a primer coat) was selected and applied to the existing concrete slab. Remmers Epoxy Primer was preferred for its proven adhesion to contaminated surfaces as it incorporates a dry quartz aggregate ( 0.8 – 1.2mm) to provide good slip resistance in wet environments.
This Remmers Epoxy PH accelerated system provides a decorative, hard wearing, bright finish to service pit lanes, walkways and store areas. Appropriate operational health and safety line markings were applied using the Meon range of products.
The works were undertaken over a very short duration over Christmas and New Year to accommodate client requirements for minimal disruption in what is an extremely busy service and support facility.