Project Details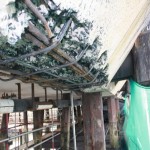 Client: Belfast Port
Main Contractor: Farrans Construction
Specialist Contractor: Larsen Contracts Ltd
Application: Hydro Demolition, Flowable concrete, sprayed concrete, chloride inhibitors, blast cleaning.
Market: Marine Concrete Repair

Download PDF
Larsen Contracts have handled many challenging projects in their history of concrete repair. Oil berth jetty repair works was certainly one of the more complex ever undertaken in our thirty year history. Farrans Construction appointed Larsen as the specialist structural concrete repair contractor. With the fast track 12 week programme for these works, a team of 12 specialists working on the project were faced with several operational difficulties such as:
working in tidal conditions in winter; and
operating on a live fuel jetty, where the frequency of oil tankers berthing in the harbour could often mean the disruption of works at short notice.
Larsen Contracts used hydro- demolition technologies for the removal of the chlorinated concrete. This removed concrete from deep in behind the reinforcement which would be inaccessible to mechanical breakers. All concrete surfaces were cleaned using high pressure water jetting. All of the reinforcement was either removed due to excessive corrosion or blast cleaned and a protective primer applied. A corrosion inhibitor was applied to the concrete elements prior to reinstatement with sprayed and flowable concrete mortars.