Project Details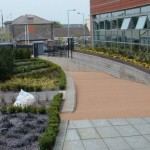 Client: Skerries Community College
Specialist Contractor: Larsen Contracts Ltd
Application: Degafloor decorative flake floor
Market sector: Education

Download PDF
Larsen Contracts have completed a third anti-slip safety floor for Skerries Community College. Previously the PVC sheet vinyl in the metalwork and woodwork rooms had become a trip hazard due to be-bonding. Larsen proposed a MMA fast curing, anti-slip, decorative Quartz screed. Works to both rooms were completed in one week during the school holidays.
More recently, the Home Economics room received a face lift as the existing PVC tiles had become de-bonded and unsafe posing a significant risk of slips and trips. The remaining tiles were removed using a high speed Terminator tile stripper. Diamond grinding was used to remove the underlying levelling compound back to the original concrete to provide a good substrate for the application of a new seamless, anti-slip floor finish. A self smoothing three mm flake floor was selected by the Board of Management incorporating a slip resistant finish. The works to this suite was also completed in five working days.
Larsen provided the College with a turnkey service through disconnecting and removing all classroom equipment, lathes, workbenches and kitchen appliances. On completion of each project, all equipment was returned to the appropriate location minimising the upheaval for the teaching and maintenance staff.