Project Details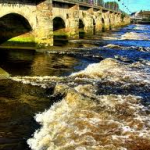 Client: Wicklow County Council
Main Contractor: Larsen Contracts Ltd
Specialist Contractor: Larsen Contracts Ltd
Application: Bridge Inspection & testing, Concrete Repair, and the application of a Protective coating system.
Sector: Public

Download PDF
The nineteen arch masonry bridges built across the mouth of the Avoca River in Co, Wicklow was widened in 1959 with the addition of a reinforced concrete structure to allow the addition of another carriageway and accommodate a footpath on either side of the bridge.
A major refurbishment project in 2013 saw the complete refurbishment of the structure, after a two stage procurement process, Larsen Contracts were appointed as specialist structural refurbishment contractor to undertake the bridge inspection and testing, concrete repair and application of a protective coating system.
The principle corrosion was as a result of Chloride ingress from de-icing salts as a result of the absence of structural expansion joints and a bridge deck membrane. The works were carried within a tidal zone, over a period of six weeks. Having identified the defective areas of concrete it was mechanically removed and the reinstatement was carried out using the Sika Monotop repair suite of materials. The entire structure was then coated with Pavix a single component highways approved protective coating.