Project Details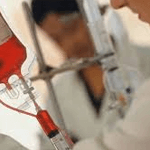 Client:Terumo BCT
Specialist Contractor:Larsen Contracts Ltd
Application: Clean Room Flooring Replacement
Product: Remmers FAS100, Inducolur D40
Market:Healthcare Laboratories

Download PDF
Larsen Contracts replaced Flooring and Coving (36m2) in the Clean Room at Terumo BCT laboratories over the 2012 Christmas period .
There was vinyl on the floor which was lifting. Larsen Contracts proposed an effective, abrasion resistant and hygienic flooring system which was installed over a 3 day Christmas shutdown period according to the carefully timed programme as below:
22/12/12 Remove Vinyl, Run Coves with Parat 04 , Apply 1st coat of Remmers FAS100 to Floor which is a Substrate tolerant, lightly pigmented, Epoxy Resin
23/12/12 AM Applied 1st Coat of Inducolor D 40 (an abrasion resistant, seamless fleece reinforced system) with Accelerator to Coves. Then a 2nd Coat of Fas100 to floor with Acc H to Floor which was alowed to Cure for 4-6 hrs
23/12/12 PM Applied 2nd Coat of Inducolor D40 to the coves and lay 2mm of D 40 to the Floor wahich was then Cured
26/12/12 Applied one coat of High Solids Metalized Polish
Client Feedback
"Just wanted to let you know the new floor in our cleanroom was a first class job, totally transformed the area to the point the Production Manager maybe looking the other areas done too!!!
Also thanks for working around our production needs which I know can add pressure to an already awkward job. We appreciate the guys working around the Christmas period to accommodate us".
Frank Healy Engineering and Facilities Manager,