Project Details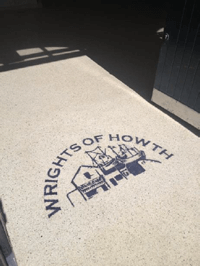 Client: Wrights of Howth
Specialist Contractor: Larsen Contracts Ltd
Application: Application of Degafloor Flake floor system in Retail Fish and Chip Market
Repair of substrate with Larsen HDS Repair Mortar and Place Coving
Market:Retail

Download PDF
Wrights of Howth, a Fish smokery, supplier and retailer commissioned Larsen Contracts to undertake application of a new MMA flake floor in a retail unit which was being upgraded to an upmarket fish and chip shop.
The finish selected was Degafloor MMA flake finish with a specially mixed colour to reflect a sea bed theme. This Resin flooring system is seamless, hygienic, slip resistant and easy to clean essential in a food retail environment
There was an area of 85m2 to cover. The existing Floor slab had initially many holes to repair for which we used Larsen HDS Repair Mortar and Place Coving, The concrete slab also had different levels which required grinding down and then the lower levels ramped up to create a uniform finish prior to application of the flake floor system.
We were also able to apply the Wright's of Howth branding using a specially cut stencil and navy flake. This was incorporated into the floor before sealer coat was applied to incorporate the logo within the floor finish.
The works were completed in 2.5 days