By admin | Published: January 07, 2013
Silber Palais Offices Car Park 
SilberPalais in Duisberg, Germany is a high quality Office Building used by International companies and owned by BNP Paribas. The Car park is used daily by tenants and visitors.
In late 2012 Larsen Contracts were appointed to undertake Concrete Repairs and replace membranes to Car park ramps with an area of 520m2
Defective screed was removed with Kango hammer and then reinstated with primer and new epoxy screed and coated with Degafloor RTU system.The Car Park was to remain open for the duration of the project so works to ramps were scheduled between hours of 7pm and 7am over a six week period to avoid distribution to tenants.
The products selected were : Degafloor RTU a heavy duty MMA Car park flooring system  which cures fully within  1 hour offering minimal disruption ,excellent skid resistance , crack free performance and colour stability and Resdev Primer and Puma Bulk
[caption id="attachment_1414" align="alignleft" width="150"]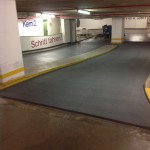 Car park Ramps Refurbishment Office Block Germany[/caption]
Also posted in
Car Parks & Podium Decks
,
Transport
| Tagged
car park
,
car park decking
,
car park flooring system
,
Car park repair
| Comments are closed.