By admin | Published: November 25, 2013
Superfast Epoxy resin for  School Sports Hall
  FGC Secondary School in Bunclody, Wexford required refurbishment of their School Sports Hall during the School Summer Holidays . This  included replacement of the epoxy resin  flooring system . Prior to installation Larsen undertook repair to large movement joins in the hall.  220m2 of resin flooring was laid over an existing epoxy resin floor utilising Remmers PUR D60 which is a flexible, solvent free, two component coating on a polyurethane base.
PUR Indu Color D60  comes in a range  colours  and can be used on concrete, good quality asphalt*, wood, steel and aluminium surfaces. It is normally sealed with a UV resistant PUR top coat to improve its resistance to weathering and abrasion.
This system creates a seamless, slip resistant surface suitable for Sports halls and offers the advantages of fast installation with no odour. Larsen completed the required court line markings using Meon two part epoxy colours. For further information on the range  of Coating and Flooring  systems  suitable for  sports and PE halls and changing rooms,  please call Brian Power at Larsen Contracts on 01 834 8255  or email info@larsen-contracts.com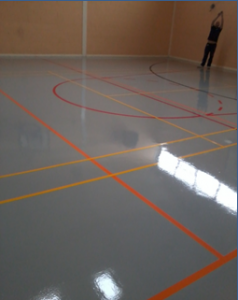 Also posted in
Case Studies
,
Resin Flooring
,
Sports/ leisure
| Tagged
epoxy resin floring
,
line markngs sports hall
,
Sports hall flooing m PE hall flor
| Comments are closed.